The COVID-19 has hit businesses really hard and some people are out of jobs, others are looking forward to feeding their families and making ends meet in these trying financial times. And if you fall into these categories, this article will present you with a business model called affiliate marketing and ways on how to start affiliate marketing with no money.
What is Affiliate Marketing
Affiliate marketing is a business model whereby you get paid a commission for promoting products/services for other companies. And the actual truth about this business venture is that all of us are affiliate marketers, though some don't know yet. Let me use an example for you to understand better. 
In the past, people used to walk from door to door selling a company's product and they were paid based on the number of products they sold. At the end of the year, some companies will reward top sellers. With technology, most businesses had to look for new ways to get their products in front of customers because the old method was not more efficient and had its limitations.
Remember, in the preceding paragraph when we mentioned that all of us are affiliate marketers. Let me tell you how? You've probably been using a product or service, it could be your internet services, a particular phone, or anything. If you are satisfied with the product, you will recommend it to friends and families. Some of them will buy the product, the only difference being that you will not earn money since you are not affiliated with the company. That's where affiliate marketing comes into play.
Affiliate marketing is better than door-to-door sales because; it does not limit your income to your time, moreover, selling a particular product is not limited to your area and above all, you don't have to work for only one company. Given these advantages let's dive straight into 6 proven ways to start affiliate marketing with no money.
6 Ways To Start Affiliate Marketing With No Money
Find a niche and a target market
The first thing we always recommend people when starting out with affiliate marketing is to find a niche and a target market. You probably heard that jargon online, on how you could just find a product, promote and make money. But believe me, that is the wrong way to go about it, and most people who start off that way probably fail in affiliate marketing.
What we recommend you do, is to find a niche of hungry buyers that will buy multiple products from you. Here are some examples of niches you could get started with: Fitness and Weight loss, health, dating and relationships, pets, self-improvement, wealth building through investing, making money online, etc. 
Now you're probably thinking to yourself that you are not an expert in any of these. The truth is, you don't have to be an expert, just choose something that you are passionate about. 
The next thing is to identify your target market. Find people who are passionate about an activity. For instance, bodybuilders, fitness coaches, stay-at-home moms, etc. Having done that, let's move on to your next task.
Sign up for affiliate programs
If you have not identified your niche and target market, please make sure you do that. The next step is to sign up for affiliate programs. Since we are assuming here that we don't have money, there are two ways to go about it.
You can run a google search and type your given niche + affiliate programs.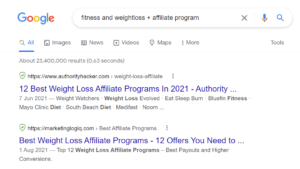 Google will present you with a list of websites that you can access and sign up as an affiliate. What we strongly recommend you to do at this stage is to carry out some research about the affiliate program you wish to join, make sure that is legit, they have excellent products with customer testimonials, and that they really pay out their affiliates. You don't want to be wasting your time advertising something that won't pay you or will tarnish your reputation.
The next method is for you to sign up for an affiliate network. In our opinion, go for an affiliate network where their admission procedure does not require stringent conditions. And what we recommend is; Rakuten Network, ClickBank, Amazon Affiliate Network, ShareASale, Commission Junction. 
Once you join any of these affiliate networks, you get thousands of products that you can promote. The picture below shows a snippet of the ClickBank marketplace.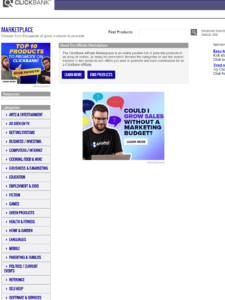 You could see different categories. And under each category, there are hundreds of thousands of products from which you can choose. The same goes for any other Affiliate Network mentioned above.
This is an important step because it entails a lot of research, moreover,  you have to connect with vendors. The first thing here is to identify products you can recommend. Don't just go for a top seller product but also go for a product with good testimonials. You could conduct a Google or YouTube search about the product review. This will enable you to get more insights about the product in order to facilitate your marketing.
Also, contact vendors and ask them for more information about the product or if they have any tools that could certainly facilitate your marketing, like social media banners and so on.
As mentioned above you want to select excellent products, with good customer testimonials, products that have a high selling rate, and that the rate of refund is really low.
Advertise on Social Media Platforms
This stage is very important because this is where you make the money. You've heard that popular phrase "No traffic no money" right? It also implies that no targeted traffic no money. Your aim here is to get targeted traffic from various social media platforms. 
Let's start with Facebook given that it is the largest social media platform. What you should do here is; join Facebook groups related to your niche. Write a short post that includes your affiliate link and publish it. Make sure you publish in 5 different Facebook groups daily. You could publish different products, it depends on you. 
Another thing that we highly recommend is to join forums and discussion groups and share some value before recommending a product. You can also advertise your product on Telegram groups related to your niche.
The reason we insist you join groups related to your niche is that you are most likely going to find people who are looking for the solution to their problems. Also, you don't want to join irrelevant groups and post things there. Just avoid spamming.
Another thing that is trending today is YouTube shorts. These are short videos created in less than 30 seconds. You could maximize this opportunity by creating short videos about your particular niche and you include your affiliate links. Below is an example of a YouTube short on weight-loss transformation.

That video has got more than 6million views. If she included her affiliate link in the description and just 1million people bought the product. She would make a lot of money. 
Make use of this opportunity because it could literally change your life.
You could drive traffic to your affiliate links by connecting with influencers and asking them to advertise your affiliate product to their followers. Since you just got started probably you have no following, the best thing to do is to look for people that have a huge following and ask them to promote your affiliate link through their network. 

But while doing that don't forget to offer them something in return. You can tell them that if you get any sales, you will offer them a certain percentage.
Given that you are looking forward to making recurrent money in the long term as an affiliate marketer, it is important that you build your self-image. Remember, people buy from people they know, trust, and like. You have to be very credible before a client buys from you and don't forget that just like you, there are hundreds and thousands of people promoting the same product, therefore you have to stand out and that starts with you building your image.
One way to go about that is by offering value through social media. You could post educational things about your niche on your social media platforms. Connect with like-minded people in your niche and look for ways to better serve your audience. You can write good content and post on various platforms and guest blogging. Another thing to do is to start a YouTube channel about your particular niche and start offering valuable advice. With time your audience will grow and you will start earning regularly as an affiliate marketer.
Having discussed the various ways to start affiliate marketing with no money let's talk about the various types of affiliate marketing programs.
Types of Affiliate Marketing Programs
Before venturing into the affiliate marketing space, it is important to know the different types of affiliate marketing programs. Basically, there are two types; Recurrent Affiliate Programs and Onetime Affiliate programs;
Onetime Affiliate Programs
With this type of program, you get paid only one time. That is, when someone buys the product through your affiliate link, the vendor will pay you a commission. It means you need people constantly clicking and buying through your affiliate link. Here there are no upsells, the program is a one-time offer. I recommend you try it, just to see how the whole affiliate marketing process works.
       2. Recurrent Affiliate Programs
This is where the big money is made because once a customer signs up and buys through your link you earn a commission upfront. And if the customer buys another product, you still earn a commission. For example, imagine you are promoting products for Amazon, and someone buys a product from Amazon through your link. If the customer goes on to buy another product from Amazon, you will still earn money.
Regarding information products, the vendor does most of the work. All you have to do is to get the customer to buy the product through your link. Once that is done, the vendor will follow up with the customer through a sequence of emails with various upsells and down sells depending on the customer response.
If you are looking forward to earning real money off affiliate marketing, we recommend you go for recurrent affiliate programs.
Is Starting Affiliate Marketing With No Money Worth it?
The answer to this question depends on each individual. However, we will present two case scenarios here;
1st Case Scenario: People who don't have money
Probably you are facing some sort of financial crisis and you don't have money, then we advise you to start with affiliate marketing. This is one of the best business models for starters and believe me when you start earning money and seeing your sales skyrocket, we strongly advise you to invest in tools like; creating a website or website, setting up an autoresponder. The autoresponder that we highly recommend is Aweber.
Also, build a Facebook page and invest some money on Facebook ads, Google ads, and Twitter ads, etc.
2nd Case Scenario: People who have money but they don't want to spend
If you are like most people out there, you don't want to invest your money until you are actually sure that it works. Listen, guys, though it's safe to try things first before investing your resources, we also think that over-caution will cost you a lot. Personally, what we will advise you to do is to invest your money in the learning process. Many people who start online are looking for quick ways to riches. But, in reality, making money actually takes time. 
We recommend you start off learning how affiliate marketing works altogether. And we will not advocate that you join these gurus online that all they do is to lure you into buying their products all in the name of you will make thousands of dollars online overnight. 
With all that being said, Udemy is a good place to learn affiliate marketing. Click the image below and sign up for the course on affiliate marketing and learn from there.
This course and many others on Udemy will walk you through the entire process of making money online as an affiliate marketer. Besides, they are less costly for starters. 
Therefore, we advise you to invest some money into learning first then later on you could buy tools to start-up affiliate marketing like a professional.
How Much Can I Earn As An Affiliate Marketer 
To be honest, there is no limit to the amount of money you can earn as an affiliate marketer. It all boils down to your objectives and the hard work you put into learning, practicing, and implementing the different things related to the profession. Affiliate marketers can earn up to 8 figures in dollars. Everything depends on the individual.
We always tell starters that there is no limit to the money you can earn. Just go into affiliate marketing with the right mindset and treat it like a business.
My Final Thoughts
Let's take a recap here, in this article you have learned 7 ways to start affiliate marketing with no money. We strongly advise you to implement these strategies. Remember, a goal without action is worthless. Decide today to get started. 
Also, if there is anything that was not clear to you in the article, or you have some other ways on how to start affiliate marketing with no money please leave a comment in the comment section below and we will respond as soon as possible. 
We wish you the best as you get started as an affiliate marketer.