An Overview of Aweber
Before we dive into Aweber Pricing Plan, I would love to give you a quick overview of what Aweber is and all its features together with my experience using Aweber for over 3 years. This will help you make a good decision whether to purchase it or not.
One of the most common phrases you will hear is "the money is in the list". If you are a business owner and you have not started using email marketing as a way to generate leads and increase your sales, then you are missing on quite a lot of things.
Using email marketing helps you to increase your relationship with your prospects and build more trust and credibility. And today we are going to examine one of the most popular and widely used email marketing and automation platforms; Aweber. So, in this review, you will learn what Aweber pricing plan, the pros as well as the cons of the platform.
---
What is Aweber and How can It help Your Business
Aweber is an email marketing service that allows you to get access to easy-to-use automation tools to launch an automatic email sequence. It was founded by Tom Kulzer in 1998 and the marketing software is used by over 200,000 businesses.
With Aweber you can build your email list, follow up with your subscribers and track your conversions.
One of the ways that businesses follow-up with customers is by sending them emails. It could be weekly or monthly depending on your business. But what is important here is the relationship you build with your prospects. That trust is what guarantees sales.
Their email marketing platform also allows you to do online marketing using emails. It has a functionality known as an autoresponder that helps you to manage your lists of subscribers. 
To better explain this whole concept, let's take an example of what used to happen in the past. Business owners used to send a large number of emails one after another advertising their products to various customers. Making it very difficult for those who had a large database of more than 500 customer emails. With technology things are a lot more easier. Aweber helps you to manage your list through their autoresponder.
An autoresponder simply sends out emails that you write on your behalf.
Aweber is a very powerful platform and what I love about them is the simplicity of the platform. Anybody could start today from scratch and build a list using Aweber.
---
Aweber Unique Features
When it comes to Aweber most people think that it's all about sending email newsletters to subscribers, but the reality is, there are just a lot of things you could do with Aweber. You can automatically create emails, even from your latest blog posts and have them go out to your list or you can write your own emails and send them out to your subscribers. Maybe you want to wish people happy holidays , you can write that out and send to your list as an email broadcast. You can run campaigns and the list goes on and on. Below are some of the peculiar features of Aweber.
Marketing Funnels
They have marketing funnels that you can automate using the drag and drop editor. This tool will tag your subscribers based on the link they click and the emails they open. You can create personalized welcome emails. Moreover their educational courses teach you how to build outstanding marketing funnels. This enables you to build a strong and deep relationship with your subscribers so they buy more from you.
This is similar to having a sales person that works 24 hours a day and seven days a week for you, nurturing your potential prospects and turning them into customers that buy over and over from you.
Drag-and-drop Editor
Aweber offers more than 700 mobile responsive email templates for you to use which allows your emails to look really good on iPhone, android devices, tablets, iPad and computers. You can view it through the emails that are generated using their drag and drop editors. Moreover, it makes your emails look so professional and it's super-easy to use. You don't need to be tech savvy anymore, to have an email list. With their drag-and-drop editor you can create beautiful landing pages, squeeze pages all to your liking.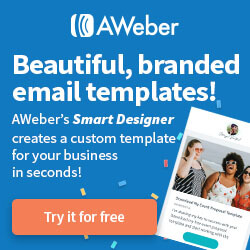 Tagging
They have this tagging feature which allows you to tag your subscribers based on if they click and open items  sending them different emails based off of the campaigns. Moreover, this is a very powerful segmentation feature for your business.
Email Newsletters
They have html templates that enable you to create and send very beautiful  professional email newsletter very easily to your subscribers. This is a very good option for bloggers. You can create emails directly from your blog post and send it to your customers. This allows your customers to be regularly updated about your articles. This is what they call RSS to email. Meaning you can create emails directly from your blog posts. You just need to put  your RSS Feed into Aweber and it can automatically email out your subscribers whenever you have a new blog post.
Email Automation
This function enables you to send automatic emails to people. So lets take for instance, someone signs up to your list and wishes to receive latest tips on how to lose belly fat. You can automatically use Aweber to send the message to them and give them the free report. And after a few days you can have an email sent to them again asking them for a favor, or promoting a product. And a few days later you can have another message go out and so on. 
This allows you to build trust with your audience, so they feel like they know you, they like you,they trust you and then they buy more stuff from you. And this happens thanks to email automation tools which you can use through their drag and drop editor which allows you to automatically send emails to a large number of subscribers. You can create automated email sequences from the time your customers sign-up. 
This is a good way to save time and to be more productive. By sending automatic emails you can convert your subscribers into your faithful followers.
>>Click Here to Get Started With Aweber For Free<<
Integrates with other platforms
Aweber allows you to connect  with third parties using their API. So let's say you are doing a webinar with gotowebinar and you have people signing up for the webinar, now they can also sign up to your Aweber email list. This enables you to follow up with them not only for the webinar but for other things that you are sharing with them. 
Moreover you could integrate with some of the popular tools online  to automate your list growth and rapidly increase your email list. You can connect your pages with other platforms like Facebook, PayPal. For instance, if someone buys one of your products through PayPal you can have them added to your Aweber List.
Track your conversions
You could track your email performance with their email tracking analytics. This is really one of the good things about Aweber because you get to see who is clicking on your links, the number of people that open your emails and those who don't open your emails as well as those who unsubscribe.
Support system
The support you get with Aweber is really great. You can contact their service directly by phone call, Live Chat or email. Their customer service is available round the clock 24/7. This is good especially if you have any queries relating to your subscription or any problem involved with their service, you can contact them directly and they will provide you with some answers.

Subscription Management and Segmenting
The Subscription Management allows you to easily collect, track and manage your subscriber list. 
The segmenting function within Aweber, enables you to easily segment your subscribers from those that just signed-up , to those who open your emails, and click your links. You can do that for all your email marketing campaigns. You can send targeted emails to subscribers based on the personal preferences and actions they took with your previous emails. This will improve your open rates and click through rates because you are giving them what they want.
Mobile Responsive
They have a suite of mobile apps so you can download to your ios device or android device. With this functionality you can manage your email list from your phone and grow your list anywhere. Moreover they have sign up forms which are mobile responsive. With the app you can view your stats and the performance of your lists on your phone. The open rate , the click rate and the bounce rate.
>>Click Here to Get Started With Aweber For Free<<
---
Aweber Pricing Plan
The Aweber Pricing plan is practically straight forward. The cool thing about Aweber and what makes it stand out from other email marketing platforms is that you actually get to use all their features from the first day you subscribed regardless of which plan you are going to be using. The diagram below will show you their pricing plans.
Aweber Free Plan
In the past Aweber used to offer a free 30 days trial to any one who got started with them. But recently they changed that and they now offer a 30 days free lifetime trial. This means that you get to use Aweber for free. I highly recommend this action to beginners who are just getting started with email marketing. 
You have the 30-days Lifetime trial with Aweber.

$19/month: You get 500 subscribers and unlimited emails and you have access to all the features listed above.

$29/month: your subscribers range from 501-2500 unlimited emails + all the features.

$49/month: You are entitled to a range of between 2501-5000 subscribers + unlimited emails and all the features.

$69/month: you are entitled to a range of subscribers between 5001-10,000 subscribers, unlimited emails and access to all features.

$149/month: With this plan you have a range of subscribers between 10,001-25,000, unlimited emails and access to all its features.

You could as well get a quote which is around 25,001+ subscribers.




---
Pros of Aweber
Below we are going to explain why we think Aweber is the best email marketing provider.
When it comes to creating emails it can be a very tiring process, having to send one email after another to your subscribers. Using Aweber facilitates the entire process for you. They have made it very easily to quickly create and send emails.

Their landing page creator, opt-in or sign-in forms enables you to generate more leads.
Watch the Video Below on How to Build a Landing Page Using Aweber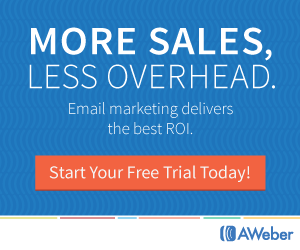 Aweber: Free email marketing and landing pages

It is easy to use. With their drag-and-drop builder, you can add headlines, texts, buttons,images and even videos into your emails. Moreover, you don't need to be tech savvy anymore to create a list or send emails.

You can easily import your list of subscribers into Aweber from another email marketing provider without having your subscribers reconfirm their subscriptions

You can either send broadcast messages or autoresponders.

Their support system is very good, you can contact them either with your phone, through live chat or by email. They are available 24/7.

They offer you over 700 designed templates that you can use.

Email management: With Aweber you can easily know the subscribers that sign-up, those who click and read your emails and those who click through your links. Integrates with a variety of platforms.

They also offer a 30-day lifetime trial whereby you can try it out for free. So, see if it's good for your business or not.




---
Cons of Aweber
I guess every business has its own negative aspects and after using Aweber for over 3 years now, here is what i can say about their platform.
They don't respond swiftly to messages. When you contact them, they can take about an hour to respond. I just thought I should elaborate it here. Even Though, I  don't see any real problem with that given that they are more responsive compared to their competitors.

If you are using WordPress and you want to install their plugin, you might lightly get an unexpected error during the configuration problem. If you face this problem please kindly contact their support team.

The prices increases as your email list grows.




---
How Aweber Compares to Other Email Marketing Service Providers
In 2016 Aweber was voted the #1 email marketing provider in PC Mag's Business Choice Awards scoring the highest in overall satisfaction, reliability, and customer service satisfaction. Moreover, in 2019 they were awarded the top honors in customer service for the fourth consecutive year.
Aweber compared to other email marketing platforms
---
Should You Really Sign Up for Aweber
If we had to answer that question for you, then we would say YES, if and only if you want to leverage email marketing for your business. I personally think that this is the best investment you can ever make when starting out. The cool thing about Aweber is that you can start up for free. They offer a life-time free trial and you don't have to enter any credit card details. Give it a try and see if it's good for your business.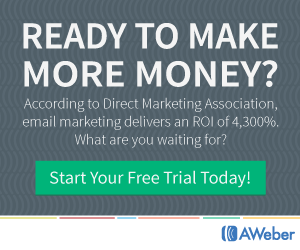 Remember helping you is our passion. Don't forget to leave a comment below and share your experience using Aweber in case you are already a customer with them.