Name: Alliance in Motion Global

Owners: Dr Eduardo Cabantog, Francis Miguel and John Asperin

ED Plan 2.0 Packages: Associate Package $147 and the Global Package is $263

Category: Multi-Level Marketing

Overall Ranking: 85% out of 100

Website:

www.allianceinmotion.com
---
What is AIM Global
AIM Global is a multi-level marketing company which was founded in 2006 by three gentlemen who are Eduardo Cabantog, Francis Miguel(who passed away in 2018) and John Asperin.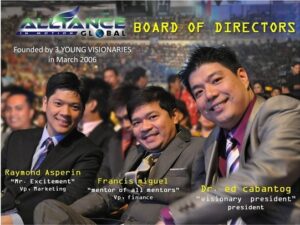 The food supplements sold by AIM Global are manufactured by Nature's Way (pioneer in herbal medicines in the USA), DSM (Bright Science, Bright Living). DSM Manufactures resVida@ and lycopene. AMS Life Science Co, ltd manufactures the Perfect White and Weider Global Nutrition manufactures the Burn products.
The Company has opened branches in Kenya, Cameroon, Pakistan, Brunei, Singapore, Taiwan, Ghana, Togo, Tokyo, UAE, Kuwait, Ivory Coast, Uganda, Hawaii and Papua New Guinea. And they are expanding as years goes by. The headquarters is in the Philippines.
---
Why You Should Listen to Us
Paul and I joined Aim Global back in 2017. We were undergraduate students back then and at that time the Global Package of $246.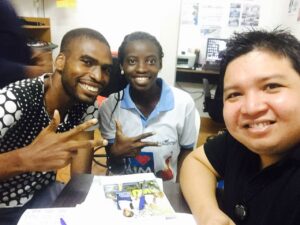 As we grew with the company we came to understand a lot of Aim Global. In 2018, Rinelle was the Top 15 Income Earner Distributor in Aim Global Cameroon. How time flies. So, this review is from two people who have been there.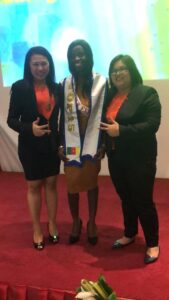 We have assisted all their training from NDO (New Distributors Orientation), 1 & 2 Technical Training, Alliance Success Achievement Program and the Opportunity Plan Presentation. And the least thing we can provide you with is an honest, insightful and hopefully the most thorough AIM Global Review.
Below is an image of Paul's first Encashment. Please check the date. This is just a proof that we have been doing Aim Global since 2017.

As years went by we have made some real cash with Aim Global. We went from having one account to having a total of 11 accounts combined for Paul and I. Below are some of the pictures of earnings with Aim Global.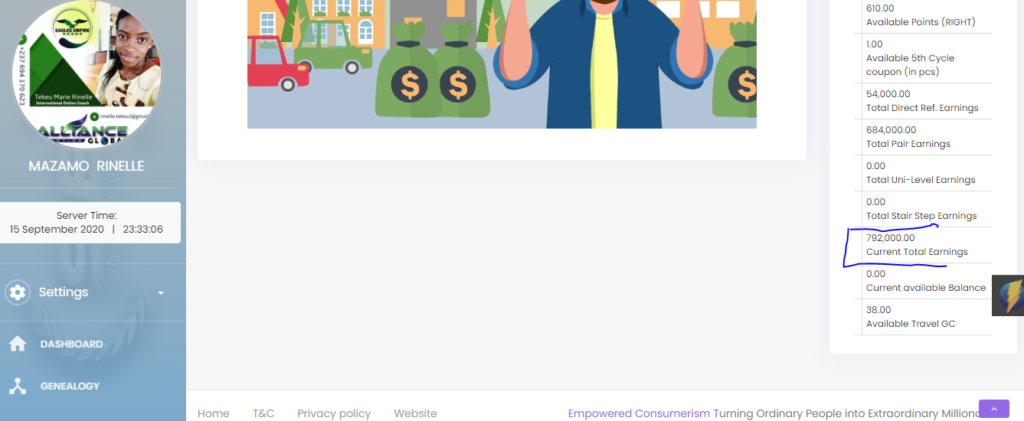 Showing you this is not a way of bragging. We always believe it is better for people to see the results first. So, making money with AIM Global is real. You just have to work hard, after all nothing good comes easy. 
Today, most people view things they don't understand as a scam. And we are here to clarify those kinds of viewpoints. So enough about us and let's dive straight into what Aim Global is all about, its pros as well as cons.
---
Alliance In Motion Global Products.
Most of their products are manufactured by Natures Way in the USA. We will give out a brief explanation about their products below.
The most important product we guess is the C24/7. The C24/7 contains the highest level of antioxidants with approximately 22000 phytonutrients in one capsule. The product is certified Halal and Kosher it means Muslims and Christians can consume the products.
Complete Phyto Energizer
This product is slightly different from the C24/7. The only difference between the two products is that the C24/7 contains 5 Anti-aging/Oxidant Enhancer and 4 Longevity Polyphenols/Mega Resveratrol Blend.
Restorlyf is a food supplement specifically formulated to prolongs one's life. It contains Resveratrol Blend.
Burnslim is manufactured by Weider Global Nutrition. It is a dietary supplement which serve as a weight loss product.
AIM Global also has beverages. They have four varieties of coffee. The cappuccino, latte, sugar free and the liven alkaline coffee. Another beverage is the My Choco, Vida cardio-ceutical drink, and the burn meal replacement shake drink
AIM Global has skin care products like the feminine wash, their soap and the tooth paste.
They also have Choleduz and they keep updating their product list as years go by.
---
AIM Global New Products or AIM World Products.
AIM World is the online division of AIM Global. For you to have an aim world account you must have registered for a global package.
The products contained in the AIM World package are:
Iprotect 24/7: This product is made in the USA and was invented by a Japanese scientist. It emits invisible fumes and creates a 2-meter anti-bacterial, anti-microbial force field. The protection can last up to 2 months. It protects you against bacteria and viruses.
The Careleaf: This is an all-natural, non-addictive, doctor formulated thermal relief patch made in Korea. It was made to relief you from musculoskeletal pain. That's it for the products, we just gave an overview.
---
AIM Global Training
The company offers training to all its distributors. OK let's emphasize here on something. You will only receive training if the company has opened an office in your country. They have the New Distributors Orientation, Technical Training, Alliance in Motion Success Achievements Program and the Opportunity Plan Presentation. All these training is meant to build you up as an entrepreneur and teach you how to make placement under your accounts and manipulate your distributor tracking center.
---
What About People Who Register in Countries where there is no office?
Honestly that will be for your upline to handle. By upline we mean the person you registered under. He or she will be the one to provide you with assistance. Guess that shouldn't be a problem because the world is now a global village, where you can talk to people and make video calls. The only problem here would be if you fall in the hands of a greedy uplines, whose main focus was just to get you to register and he/she did not follow you up after you registered. But if your upline is very supportive then that would not be a problem.
You can also connect with us and we will help you. Our contact information will be can be found at the end of this post.
The training you get from the office is a real-life training and it prepares you to be an entrepreneur, they help you to overcome some difficulties in life and you get motivated because you stay around like-minded people.
---
Can You Really Earn Money with AIM Global?
Yeah you can earn money from AIM Global based on your efforts and how much work you are ready to put in. We have made money with AIM Global. Below is our DTC (distributors tracking center)showing some figures of how much we have earned from Aim Global. Now remember there are people who earn more and some don't earn money at all. This all depends on the amount of work you put in and how smart you are. Work hard and Work Smart.
The one thing we will emphasize here is that AIM Global is not a get rich quick scheme. If you don't work you don't earn. You have to be willing to put in some efforts and the right effort for that matter. Because it is easy for you to work hard and you don't earn any dollar. Use the right strategies. Remember nobody likes a sales pitch.
Focus on giving value to people and get to build a relationship with your prospect. The money will come just be patient and trust the process.
Most distributors out there will sell you on the idea that you can become a millionaire overnight. The reality is that it takes time. Don't fall for that trap. And that is why when someone wants to join my team, I coach them on having the right mindset before joining.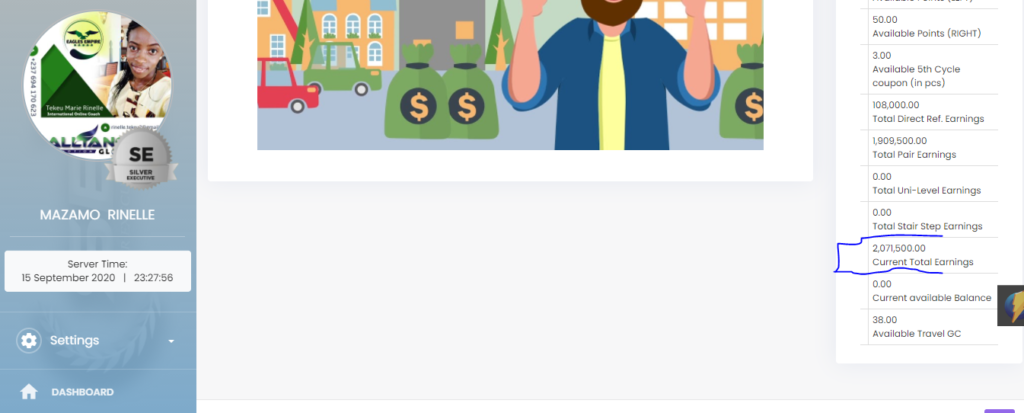 Remember there are people who have earned way more than I have and some less than that. It all depends on the efforts you put in. The amount is in Francs CFA. You can compute it in dollars using the exchange rate below.
---
The ED Plan 2.0 Packages
There are basically two types of packages in AIM Global. You can choose to start either with the Global Package or Associate Package
The Associate Package is $147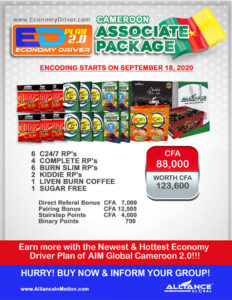 The Global Package is $263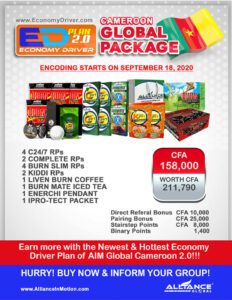 There is also a possibility with AIM Global to register under several heads. Let me break it down. With AIM Global if you sign up for one account, by account I mean if you pick up one global package, you will earn only from that account but if you have several accounts you will earn from all your accounts.
AIM Global has an Entrepreneurial Package which is 3GP and they have an International Pack which is 7GP.
So, everything depends on your pockets, you alone can decide which one to start up with and try to see if it works.
---
AIM Global Compensation Plan
There are various ways by which you can earn money with AIM Global.
Retailing: You get 25% on all the products you retail.
Direct Referral Bonus: For every person you refer and the person signs up under you, you earn $12.6456USD
Matched Sales Bonus for a Global Package is $45.1628USD. Since the system is binary you earn $45.1628 when you get a pair (one person under your left sales group and the other one under your right sales group).

Stair Step Bonus: A distributor gets an overriding commission once his or her rank is increased.
Unilevel Bonus: You earn 10% of product sales volumes from your direct referrals and 5% of product sales volume from non-direct referrals from the 1st level right up to the 10th level.
Royalty Bonus: When you get promoted as a Global Ambassador you earn 2% of group product sales from all GA in your group up to the 5th level.
---
Is AIM Global a Scam?
Definitely AIM Global is not a scam and the company is expanding worldwide. Aim Global has being around since 2006. Now, what we will not do is to hard sell you on the amount of income you can make with AIM Global. Because that is exactly what other distributors do and they lure you to join the company.
The amount of money you make in AIM Global depends on your efforts and the efforts of your network. If your downlines are being taught the right strategies on how to go about the business definitely together you guys will succeed.
The whole issue is that people who get to have a negative impression about MLM were told lies by their uplines and they entered without understanding the realities of the market. We are really against uplines who tell people how they can become millionaires overnight. That claim is unrealistic. To earn money you must invest something. You get what you put in.
Click here to read our article about our little story with MLM, why people fail and how to avoid failing in network marketing.
---
Pros of AIM Global
The fact that they pay out daily is really an advantage. What we like about AIM Global is the daily payout system. It is very difficult to see an MLM company that pays its distributors daily, we really give them credit for this.

The company has one of the Best Compensation Plans if only you put your head to work.

There is no maintenance. In some MLM companies you are forced to keep on buying the product in order to gain some money. But with AIM you are not obliged to keep buying products.

The Products are really efficient. It has helped me a lot because I was suffering from constipation issues. Hey don't take my word for it because it might have worked for me and many others but remember everything depends on the individual.

The training given during the New Distributors Orientation is really encouraging. It helps you to face the challenges of an entrepreneur.

The Success stories from AIM Global are really enormous. The company has changed thousands of lives around the globe with their brilliant and easy compensation plan.




---

Cons of AIM Global

The company's teachings on how to use social media to build your business is not effective. What they basically teach you is to pitch about your opportunity, to brand the company's name. Personally, we don't love this approach because it drives your audience away from you. Remember people do business with people they like, trust and know. Focus on giving out value to people.

The claim from fellow distributors that it is not compulsory to sell the products, you just have to recruit is not good. For us the two go together. But as we earlier said there is a proper way of selling something. And there are distributors who make you believe that you can earn just by recruiting. Most of them are just interested in getting you to sign up.

The company does not accept you to be a distributor for another company. Which is not so good.
Apart from that your success in AIM Global is determined by you. Remember you get what you put in. Nothing good comes easy and everything has a bad side nothing is perfect. To that effect our overall ranking is 85% out of 100.
---
Our Verdict
Yes, we Recommend AIM Global to people who want to start up in the MLM Industry.
---
Our Unfair Bonus If You Sign Up with Us
We will give you a book on the Secrets of Marketing. The value is worth $37.
Personal Mentoring. You will get access to One on One coaching from the Founders of Parin Online. How good is that. The value is worth $557.
We will walk you through all the steps needed for you to succeed.
Paul and I wrote a book, The Secrets to Grow your Business. In this book you will get a step by step guide on how to start from scratch and build a successful business online. That is something you wouldn't want to miss out.
Considering the fact that we don't have any direct link for people to sign up we will provide you with our details below so that you get to contact us if you wish to get started.
Connect with us through email: parin@parinonline.com
Contact us on Whatsapp Messenger: +237694170623
Please your comments matter to us. Leave them below and let's get to share ideas about your experience with aim global.